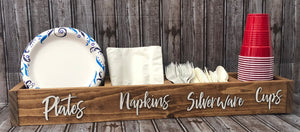 Introducing the ultimate kitchen organization solution: our Kitchen Caddy!
This versatile caddy is designed to keep your plates, cups, silverware, and napkins organized and easily accessible. The sleek and modern design will complement any kitchen décor and make your life easier.
The caddy is made of high-quality wood and features four compartments, each designed to hold a specific type of dishware. The top compartment holds plates, the second one napkins, the third one silverware, and the last one cups. 
Measuring at 29" x 3.5" x 7" inches, this caddy is large enough to hold all of your dishes, yet compact enough to fit on any counter or table.
It's perfect for everyday use, but also a great addition to any party or gathering. It's easy to clean and maintain, and it's a great gift idea for any occasion.